Correction on my written 2019 running goals… I did run a sub 23 5k in 2018. Apparently that didn't register with me because I wrote my 2019 5k goal to be sub 23. So low 22s will be cool; even running consistent 5ks at that pace. I mean I was working for those PRs. It wasn't an easy time… but enough of that.
When I first started my blog, although I didn't (and still don't) want it to be a cooking blog, I did have a goal to eat more nutritiously. Like with any resolution, without dedication and the will to make it a habit, it will just come and go.
Having given up on my salad-once-a-week thing on the 3rd week of 2019, I started cooking more; just a few steps up from Kraft mac and cheese. I wouldn't say I am/was a bad cook. Certainly not. But I never really liked what I cooked after the time spent slaving in the kitchen. Yes, maybe some were bad recipes. But I'm going to take my cooking-a-new-recipe-once-a-week resolution and run with it. (HA.) I have several runner's cookbooks, and I received Snoop Dogg's cookbook as a Christmas gift (big fan of 90s hip hop and R&B, along with jazz and electroswing music). I also have a collection of Martha Stewart Every Day Food Magazines that we couldn't toss out over the years. And this year, so far I've "liked" everything that I've made.
The first "new" dish of the year was a brown rice risotto with mushrooms and peas (Run Fast. Cook Fast. Eat Slow.). I really think this may have been my first time cooking rice. (I know!) I also made a key lime pie. I felt like we needed a pie. That meant I ate pie for the next four days but it was worth it. It was very delicious. I did not make the crust homemade, probably disappointing my mom for succumbing to a store-bought food item, but it was cheaper to buy a crust than to buy the graham crackers and make one. This recipe was from Martha Stewart. It also meant extra forkfuls of whipped cream. Note: don't cover the pie before putting it into the refrigerator to cool or it will wreck the visual presentation.
For dinner with the risotto, I made the RFCFES turkey trot meatballs. They also turned out delicious. So good that later when I made Asian meatballs with carrot rice the following week from another Martha Stewart recipe, it was a tough call on which was better. I don't know how often meatball recipes tell you to add shredded cheese (Parmesan, in this case) but it was a good touch.
Another project I started a after a surprisingly popular tweet was the idea to bake "all" of the boxed brownie mixes in stores. How does one know which is really the fudgiest? And while I should make the brownies homemade, brownies were the one dessert that as a kid my mom didn't let me make from scratch. *slowly opens the cocoa powder and POOF chocolate everywhere*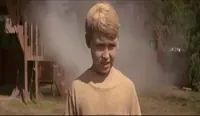 Currently, the project is on pause because I have girl scout cookies to finish (I ordered too many, no really, too many). And for Lent (in addition to other things I'm doing the one thing I'm giving up, is to ration dessert down to once a day.
One Saturday, instead of running with a cold, I traded the shoes for cross country skis, to cross country ski with a cold. I know, I know, it's not exhilarating as downhill skiing and it's more work… but I wasn't going to let those comments deter me. Luckily, I have nice friends who wanted to try it with me. We went six miles and it made me excited for more long runs at this park.
In the beginning of February, I made sweet potato chickpea cakes (RFCFES). These reminded me so much of my grandma's potato pancakes, or bellini's (Polish), except healthier. They were fried on the stove while my cousin, who was visiting, made Belgium waffles. It was a fine combination.
Later, I made a lemon cream sauce with noodles from a Martha Stewart recipe.
Another time I made spinach mac and cheese from Martha Stewart and the following week I made broccoli mac and cheese from RFCFES. They used the same amount of cheese. I'll admit the spinach mac was much better. And here I thought I would've been put off by the spinach.
Now back to running: I've been averaging about 14 miles a week since the new year. My longest run was near the end of February. I met Janet at the park and we did 9.3 miles. It was a random sought after distance but I'm very glad we averaged 9:29/mile pace and the hills didn't seem too tough. I'll admit I was a little sore the next day – I should have stretched!
I plan on doing a 5k race soon even though I haven't done any outdoor or indoor speedwork other than varying the treadmill pace from 5.5mph to 6.5mph for a few minutes at a time. I also am thinking of an early May half marathon. Now that we had a few "warmer" days lately I'm so excited to get back out and train for something.