As I am writing this, I'm sipping on warm tea. I think I am close to losing my voice. Usually I am the one running the races. This time I was the spectator.
Last year, my high school's wonderful cross country and track coach, Gregg, set out to run the Detroit International Half Marathon. This would be his first half marathon race since being diagnosed with pancreatic and liver cancer in November 2017. Although I didn't write about it last year, I should have. So I'm doing it now.
Coach Gregg taught us to be confident runners and women. He showed us what good sportsmanship is. We became knowledgeable about running etiquette and how to train for a race. By running on teams in school we learned how to be organized and have good time-management. Even after high school, Coach Gregg continues to look out for us. He's helped me make more connections with other runners, even inviting me to participate in unforgettable races with his friends.
Last year, I joined him for the race, along with my friend Caity (his athletes, "chicks") and her dad; his friends and family ran with him and met him along the course.
We ran and walked at regular intervals.
I really cannot express what it meant to be able to run a meaningful race with the one who helped ignite my love for running. Understandably, he was emotional at the end. But we all were, too.
This year, regrettably I did not register in time for the 2019 Detroit International Half Marathon. While I did not run, he still had friends running with him.
In late September as I was out for a run, I, quite literally, ran into my friend Jenell, whom I ran with in high school and we often carpooled around. We chatted and I brought up the idea of spectating our coach's race. After messaging again later we had her/our friend, Tina, join us, too.
That's another thing… running on Coach Gregg's teams made it easy to make friends. Occasionally talked about in my blog, is my friend Caity. If not for cross country and track that we shared together in high school, we may not have connected as well and be friends to this day.
I tried to keep spectating his race a surprise but I knew, either way, he would be happy to see us. His running partners knew we were coming and about where on the course we would be.
The night before, I painted race signs with the blank posters I picked up on Friday at the race expo. I had no reason to go down to the race expo except for the chance to meet my long time Twitter friend, Melinda, "in real life"!
I started following Melinda not just because she's a fellow runner who posts quality tweets and good jokes, but also for how inspirational she is. She's honest and shares her running successes and disappointments with her followers (something nearly every social media user struggles with). And she gives her race medals to Aiden.
She was in Detroit to the run the Freep full marathon for the first time. Melinda ran the 5k with Aiden and his family on Saturday and after the full marathon on Sunday, coordinating with race officials, she was able to physically award Aiden a medal after running the distance. It's just an awesome feeling to be able to meet someone so kind "in real life", no matter how brief that encounter is.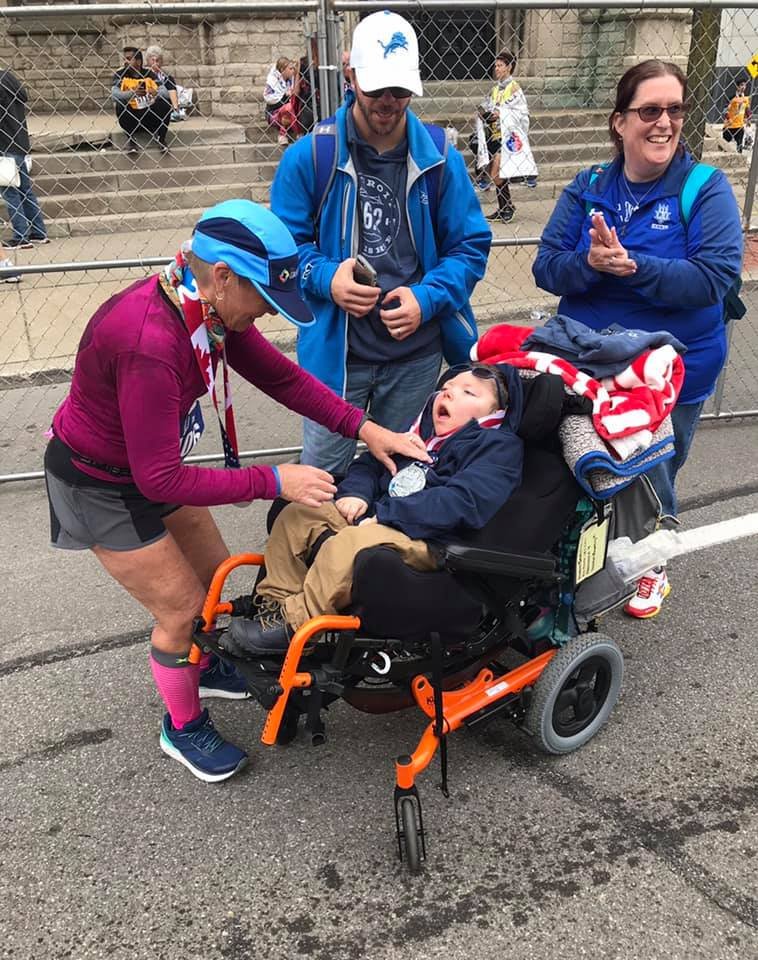 Being runners ourselves, my friends and I knew how to prepare ourselves for spectating. Dressed in layers and running shoes, we arrived downtown by 6am. We scored free parking and walked to the starting corrals. It's a wonder anyone is ever able to find who you're looking for before the race. We scanned the corrals to look for coach. But we gave up and started running to somewhere near the one mile mark. Here, we were hoping the runners would be spread out enough we could be able to recognize our runners. Because I brought flashlights, one of which blinked red, our posters were illuminated, because yeah, the sun wasn't up yet! Also because it was dark, we couldn't read the pacers' signs as the waves went by. It never really thinned out but I did holler to the runners asking what corral they were haha – we didn't want to miss them!
Once they spotted us, we ran back to the start/finish area in search of coffee. Tina spotted a coffee food truck. (It seemed that nearly every spectator was inside a building in a never-ending line for coffee; and I can't blame them – it was an early morning, even for spectators!) We had time while they were crossing the bridge and running through Canada. Bringing the paper course map with us was also a good idea. And it was warm enough that I didn't need the handwarmers I brought with me, just in case. (Detroit's Freep races have been up and down with the weather: I've had years I started with 19 degrees F and snow flurries and other times I ran in shorts and a tank top and suffered from the humidity.)
We made two more stops along the course, running between each one, and finally headed back to the finish line exit shoot to find our friends.
I have loved having family or friends spectate at my races. My friend Jess and her husband had planned their own vacation and, while on vacation, they drove further across the state on a rainy morning to see me at my marathon last year.
As a runner, I love recognizing someone on the sideline – I light up. While spectating, you cannot miss how runners recognize their friends and loved ones on the course. And not just Coach Gregg and friends; it is undeniable, recognizing the happiness a stranger expresses when noticing the spectator that came for them.
I've always appreciated random spectators cheering for us runners (me) because often times I don't know anyone personally at every race (and I can't expect anyone to be that dedicated to my running haha). It brought me joy to be able to be on the sideline this time around as Coach was running.
We were brought back to our high school days. We made an effort to cheer for every runner as we waited for our coach and friends. That's something Coach Gregg had taught us. We cheered for the runners on the other team.
Coach Gregg taught us to run with our hearts.
It was an awesome day. I loved it. We were so happy to be able to come and see our coach's race, after he's watched dozens of ours. I napped on and off for two hours that afternoon and drank lots of tea. Who knew that my voice would be hoarse from all the cheering. It was an unexpected side effect, but so worth it.
I have so many memories of running with my heart with Coach Gregg and I'll always looking for more.